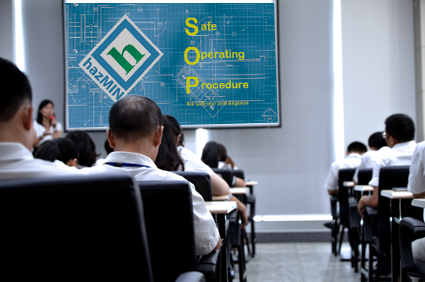 The SOP
The in-house training document.
How do you train employees within your facility on the proper use and handling of hazardous materials as it applies to their specific process?
How do you acquaint employees of facility specific rules and regulations regarding safe storage of a recently delivered material?
SOPs are the answer. An MSDS/SDS might state "dispose of according to federal, state, and local regulations", while an SOP will prescribe facility specific disposal information, such as "clean the material up with floor-dry and place it in the green waste accumulator". SOPs provide specific-use training and can summarize the key parts of an MSDS/SDS, in the terms and everyday language of your workforce, 24 hours a day. The hazardous materials management system comes equipped with thirty "generic" SOPs (based on material type, i.e., "Oil Based Paints"), which can be easily modified for your distinct use.
Typically, one SOP is used for one material within a facility.
The Supreme Environmental Database Information is not available anywhere else. Most companies acquire the Committee Review Software so that they can build a queryable database of hazardous material usage, storage, and disposal which is not available anywhere else in the corporation. The queries and cross-queries on the data are unlimited. A cross-query may include components of specified MSDS/SDSs found in the SDS Management Module referenced to a list within RegSub™ (such as the "Ozone Depleting Substances" lists (ODSs)), with a cross-query to the REQUESTS for the who, what, and where of the information that one requires.