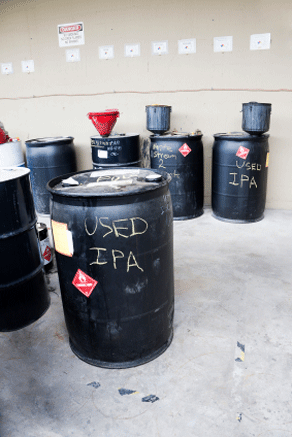 Hazardous Waste Tracking
Out of sight is not out of mind.
Tracking waste, hazardous or not, in the hazMIN® Chemical Inventory Software is as simple as documenting the movement of the waste from an onsite location (where it was generated) to an offsite location (where it was disposed). Add a manifest number to the waste going offsite and you have documented all of the material on that manifest.
Like any material tracked in the hazMIN® Chemical Inventory Software, the waste may be tracked as a bulk material or in a uniquely numbered container. Waste is entirely integrated into the material tracking system. There are no separate databases or special reports that need to be run for waste only. To track waste for biennial reports, you just move wastes in and out of the site's hazardous waste storage location.
Tracking the waste being generated at a location enables the user to generate reports for the department or facility. By entering the standard cost for that waste's disposal, the waste generation cost for each location, department, or facility can be calculated for a given time period. When a corporation is tracking multiple facilities in one hazMIN® database, the waste generation from each facility is automatically documented in the hazMIN® Chemical Inventory Module.
Another feature of the Chemical Inventory Software is the Module's flexibility is the user defined waste fields. Since waste can vary between industries, user defined fields allow user to document special characteristics of their waste.
Entering the waste analyses enable the software to compute release of heavy metals. Material moved offsite may then be automatically rolled up into Form R release reports.